In the world of chess, only about 1500 players have reached the highest title–the chess Grandmaster (GM) title.
Chess Grandmasters have an unusually high Elo rating and have proven their skills in tournaments. In addition, they have to fulfil a specific set of credentials as mandated by FIDE.
Despite all that, it is not always easy to achieve this goal. It requires a lot of time and effort. If you're interested in becoming a chess Grandmaster, you'll need to work hard to strengthen your skills. You'll need to practice daily or find a coach to help guide your training.
Positional Chess
If you want to be a chess Grandmaster, you should learn how to play positional chess. It takes time and patience to become a master at this game.
When playing a positional game, it is important to consider the activity of your pieces. This is a measure of how many squares they control and how they influence the game.
You should also focus on the safety of your king. This is because a castled king is more protected than an uncastled one.
In addition, you should make sure your pawns are strong and can protect your king from attacks. This is a strategy used by many world champions.
To improve your positional chess skills, you should go through a lot of tournaments. You should experience the different positional themes in your own games, both in suffering and in ecstasy, and you should carefully examine your examples.
Endgame Chess
The game of chess is a difficult and complex sport that takes a lot of training to master. Even a strong chess player can lose a game because of bad endgame tactics.
Fortunately, there are many resources available to help you improve your endgame skills and understand the various end game concepts. These include online classes, chess puzzles, and more.
Another way to improve your endgame skills is to play against the computer. These games aren't perfect mirrors of human behavior, but they can teach you a lot about endgame tactics and strategies.
The endgame is a crucial part of chess and can determine the outcome of your game. However, it can be challenging to master, which is why it is important to find a strong trainer who can help you learn how to play the game successfully.
Calculation
The ability to calculate variations is one of the most critical skills that a chess player must have. Starting from a single move calculation, to thinking as deep as 10-12 moves, calculating accurately is an important skill that every chess player should possess.
Calculation is the process of working out an answer, usually by adding, multiplying etc. Getting good at calculating is an essential skill for a chess player as it will help them to make better decisions during the game.
However, the number of calculations that a solid chess player will make during a game is not as much as some might think. They only see a few moves ahead, often not many more than strong club players do.
Strategic Chess
If you're interested in playing strategic chess, there are several things you need to know. You need to know how to analyze a position, and you need to understand the difference between strategy and tactics.
You also need to understand how to recognize weaknesses in your opponent's positions. This will help you figure out how to play against them, so you can win.
Chess Grandmasters use a lot of strategies and tactics in their games, so they can surprise their opponents. This is because they're familiar with a variety of openings, moves, and endgames.
They also know how to anticipate their opponents' next move. This can be a huge advantage in chess because it gives them more time to prepare their next move.
Who is the Youngest Chess Grandmaster of India?
Chess is a game that has a huge global following. The highest title a chess player can achieve is the grandmaster (GM) title. It is a rare achievement and takes years of practice and dedication.
India has produced several GMs over the years, but it's still a long way to go before the country provides equal opportunities for all its deserving talent.
Abhimanyu Mishra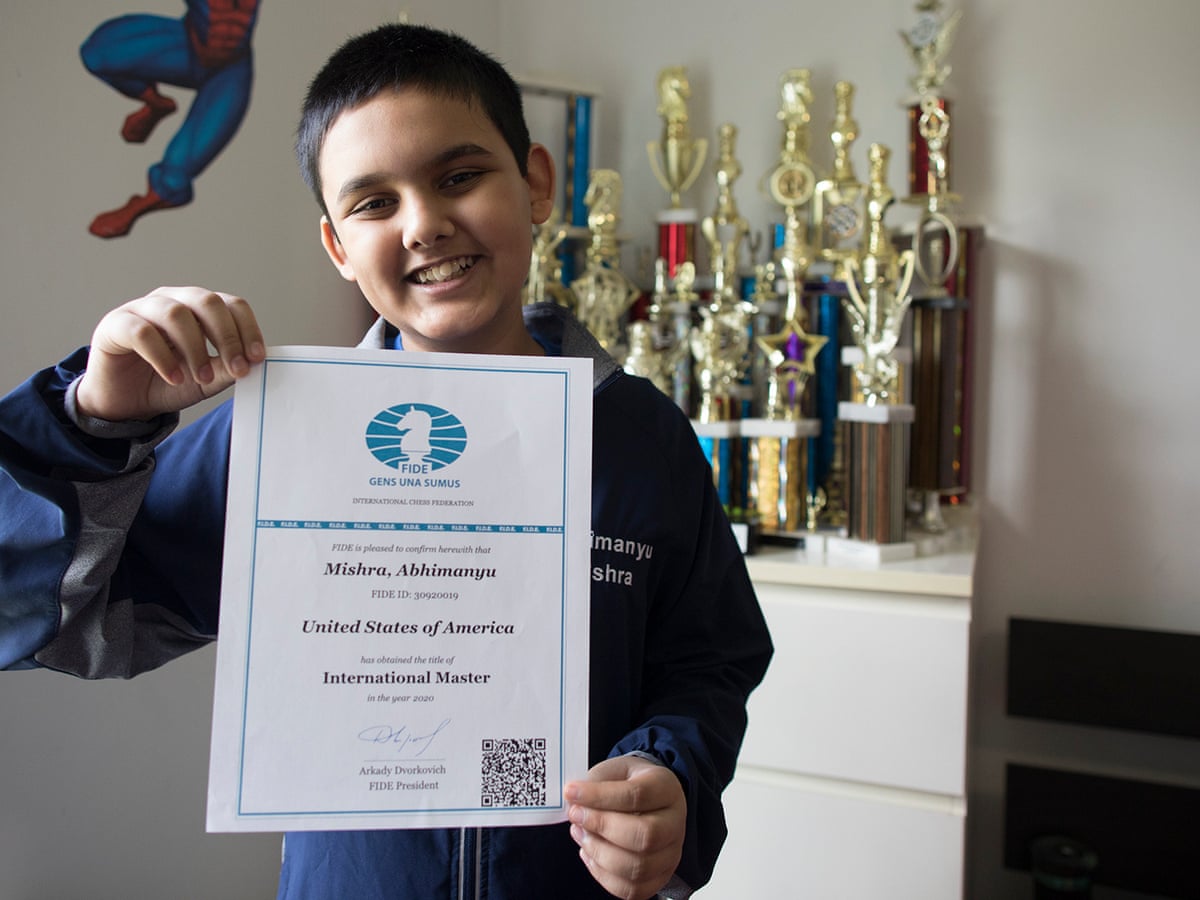 Abhimanyu Mishra, the youngest chess grandmaster of India, has made his name in chess through sheer hard work and determination. He started chess at the age of two and has continued to grow into a world-class player.
A chess prodigy, he became the youngest player ever to qualify as a grandmaster at the age of 12 years and 4 months in 2021, breaking Sergey Karjakin's record since 2002.
In April, 2021, Mishra travelled to Budapest where he played back-to-back tournaments and scored his first GM norm. He followed this up by scoring his second GM norm in May at the Vezerkepzo tournament, also in Hungary. In June, Mishra won the clear first place in the Vezérképző GM Mix tournament in Budapest, Hungary, giving him his third GM norm.
He is the son of Hemant Mishra and Swati Mishra, both data management professionals who migrated to the US from Bhopal, India. They worked together as a team to support their son in his ambitions.
In the ensuing years, Mishra has gone on to win all national chess tournaments and became the youngest International Master of the world. His success has been largely due to the help of his coach Arun Prasad Subramanian and parents.
Gukesh Dommaraju
Gukesh Dommaraju, better known as Gukesh D. At the age of 12, 7 months and 17 days, Gukesh D became the second-younges chess grandmaster in history on January, 2019.
He was awarded the title of grandmaster by FIDE in March 2019 after he scored his third GM norm at the 17th Delhi International Grandmaster Open. Gukesh D is part of a generation of young Indian players who are climbing the ranks of the world's top chess players. They are making headlines with their prodigious achievements.
Born to a Telugu speaking family in Chennai, he started playing chess at the age of seven and soon began winning accolades. He won the under-9 section of the Asian School Chess Championships in 2015 and the Under 12 category of the World Youth Chess Championships in 2018.
Gurkesh D won the gold medal at the 44th Chess Olympiad in Mahabalipuram last year with a record-breaking score of 9/11. He was recently awarded the Player of the Year Award by the Asian Chess Federation (ACF).
In March last year, Gurkesh D became the sixth Indian to cross the 2700Elo mark and the youngest grandmaster in the country with a rank above 2700.
Gukesh Dommaraju, Arjun Erigaisi, Praggnanandhaa Rameshbabu and Nihal Sarin have taken over the news cycle with their prodigious success. They are scaling peaks at an incredible pace and will be among the first to challenge for a World Championship title in the coming years.