The World Blitz Chess Championship is an over-the-board tournament, contested by national chess champions from all over the world. This year the championship was held in Almaty, Kazakhstan.
The World Blitz Championship ended in Almaty. Magnus Carlsen won the Open with 16/21. Bibisara Assaubayeva won with a score of 13/17, which was the second consecutive year she won the World Women's Blitz gold medal. Magnus Carlsen won his second gold medal in Almaty after winning both the rapid and blitz tournaments in Almaty.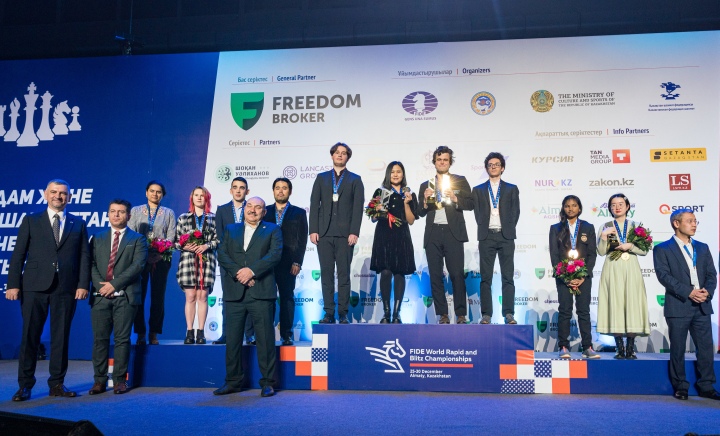 Format
The World Blitz Chess Championship 2022 was held in Almaty, Kazakhstan from 29-30 December. In order to qualify, a player had to have a rating of 2550 Elo or higher. There were two sections of the event: open and women. This is a 21-round and women's 17-round Swiss tournament. Players receive one point for each win and 0.5 for a draw. The blitz competition is a tough test for top players.
Open Blitz
After a strong initial day of the Blitz, Carlsen (the 3rd seed in the Blitz) persevered and also held on to the lead to round out the tournament. On the 2nd day, Carlsen drew with his top competitor in the Blitz, Hikaru Nakamura.
It was not all smooth sailing for Carlsen, that endured two defeats at turning points. Losses to Ian Nepomniachtchi (World Champ in classical chess candidate) and also the young superstar Alexey Sarana.
Carlsen's last round opponent in the blitz was Uzbekistan's Nodirbek Abdusatorrov (that had formerly beaten him in a rapid event). Carlsen showed more consistent nerves in the complex scenario and took care of to nab the win, securing his sole position in 1st place. Carlsen also reflected on his main opponent in the Blitz, Hikaru Nakamura, that finished second, noting that the pressure on him to be the leader after the first day was amazing.
Carlsen Wins Triple Crown
Carlsen, who is currently the holder of all 3 world titles – Classical, Rapid and also Blitz – made a decision not to safeguard his title in Classical, yet secured himself another world title in Rapid as well as Blitz by winning the World Rapid as well as World Blitz titles. This is the third time Carlsen is the holder of all three world chess titles.
| | | | |
| --- | --- | --- | --- |
| Ranking | Title and Name | Rating | Points |
| 1 | GM Magnus Carlsen | 2830 | 16 |
| 2 | GM Hikaru Nakamura | 2909 | 15 |
| 3 | GM Haik Martirosyan | 2745 | 15 |
| 4 | GM Anish Giri | 2792 | 14.5 |
| 5 | GM Jan-Krzysztof Duda | 2773 | 14.5 |
Women's Blitz
Defending champion Bibisara Assaubayeva
The Women's section was won by Bibisara Assaubayeva, an 18-year-old Kazakh. Bibisara Assaubayeva scored 13 indicate top the 17-round competition. Her performance was aided by an encouraging home crowd. She became the third woman in history to defend the title. The previous female defending Blitz champ was Kateryna Lagno in 2018 and 2019 as well as Anna Muzychuk in 2014 and 2016.
While she had some impressive wins, she also suffered a number of setbacks against big names. Asobayeva began the 2nd day of the Blitz a full minute and a fifty percent behind the leader (6/9), but she had a wonderful 2nd day, winning 7 races and shedding only one (Polina Shuvalova). At journalism meeting after her triumph, Asobayeva was delighted with the effective protection of her title and that she achieved it in her home country.
First Indian woman to win a medal at the event
35-year-old Koneru Humpy won the silver medal at the World Blitz Championship. Koneru beat China's Tan Zhongyi with 12.5 points, just half a point behind gold medalist Bibisara Balabayeva of Kazakhstan. This is Koneru Humpy's first medal in the World Blitz. In the past, she has won at the 2019 World Rapid. She is the second Indian to win a medal in World Blitz after Viswanathan Anand.
| | | | |
| --- | --- | --- | --- |
| Ranking | Title and Name | Rating | Points |
| 1 | IM Bibisara Assaubayeva | 2404 | 13 |
| 2 | GM Humpy Koneru | 2474 | 12.5 |
| 3 | IM Polina Shuvalova | 2361 | 12 |
| 4 | GM Tan Zhongyi | 2510 | 12 |
| 5 | IM Meri Arabidze | 2404 | 11.5 |
Indians in the World Blitz competition
P Harikrishna (13 points, 17th), Nihal Sarin (13 points, 18th), Arjun Erigaisi (12 points, 42nd), B Adhiban (12 points, 49th), V Pranav (11.5 points, 58th), Aravind Chithambaram (11. 5, 60th place), Surya Shekhar Ganguly (11, 72nd place), Raunak Sadhwani (10.5, 83rd place), Vidit S Gujrathi (10.5, 90th place), S L Narayanan (10.5, 92nd place).
Koneru Humpy 12.5 (2nd), Harika (10.5, 13th), Padmini Rout (10.5, 17th), Tania Sachdev (10, 21st), B Savitha Shri (9.5, 33rd).
Closing Ceremony
The closing event of the World Rapid and Blitz Chess Championships happened at 8pm local time at the Baluan Sholak Sports Palace where the competition was held. Gamers, officials, enrollers and guests joined the champions of the 2022 Rapid as well as Blitz in the event hall with a big platform.
Talking on behalf of FIDE Head of state Arkady Dvorkovich, FIDE Executive President Viktor Borogan thanked the Kazakhstan Chess Federation as well as the regional group for the effective company of the tournament as well as stressed the friendly as well as favorable ambience of the tournament. After the medals as well as prizes were granted and the nationwide anthem was played, the 2022 World Rapid and Blitz Chess Championship were officially shut.
Previous Champions
2012 : Alexander Grischuk
2013 : Lê Quang Liêm
2014 : Magnus Carlsen
2015 : Alexander Grischuk
2016 : Sergey Karjakin
2017 : Magnus Carlsen
2018 : Magnus Carlsen
2019 : Magnus Carlsen
2021 : Maxime Vachier-Lagrave