The 2023 World Chess Championship was held in Astana, Kazakhstan, from April 9 to 30. The tournament consisted of 14 matches to determine the new world champion.The World Chess Championship 2023 is one of the world's premier chess events, pitting two of the greatest chess players against each other for the title of World Champion. Ian Nepomniachtchi and Ding Liren will battle it out to become world champion for 2023, after both finished first at the Candidates Tournament of 2022.
Ding Liren becomes the next world champion after years of hard work and dedication to chess. The Chinese grandmaster earned this coveted title through years of hard work. With his strategic genius and talent for creating complex tactical issues for his opponent, he won major tournaments such as World Cup and European Chess Championship titles – becoming an extremely formidable opponent to anyone trying to unseat him – Steinitz, Lasker, Capablanka, Alekhine, and Botvinnik are among his distinguished predecessors who share his famed title; however. He remains one of history's greats!
In this article, we will explore Ding's background, his rise to prominence, and his achievements in the world of chess.
World Chess Champion
Magnus Carlsen has reigned as world chess champion since 2013 and is widely considered to be one of the greatest players ever. Boasting one of the highest ever Elo ratings, he spent over 10 years sitting atop ratings leaderboard before successfully defending his title four times against some of history's finest including Viswanathan Anand, Sergey Karjakin and Fabiano Caruana – however this year, Carlsen decided not to defend it.
GM Ian Nepomniachtchi faces China's GM Ding Liren in what should be an exciting match-up! Both have combined ratings of 2811, having met numerous times throughout their careers; although Ding had superior ratings overall; Nepomniachtchi holds an edge when it comes to head-to-head records.
Also Read : World Blitz Chess Championship 2022: Carlsen Wins Triple Crown, Asobayeva Defends Title
The First Chinese World Chess Champion
Ding Liren is a Chinese chess player who has been making waves in the world of chess in recent years. Born in Wenzhou, China in 1992. He is known for his solid and positional style of play. He is a strong endgame player and is skilled at finding the right moves to improve his position. His opening repertoire is also varied, and he is comfortable playing both with and against the mainline openings.
Ding Liren began playing chess at the age of six and quickly showed a talent for the game. By the time he was ten years old, he had already won several national championships in China. In 2004, at the age of twelve, he became the youngest player ever to win the Chinese Chess Championship. He would go on to win this tournament again in 2005 and 2006, cementing his place as one of China's top chess players.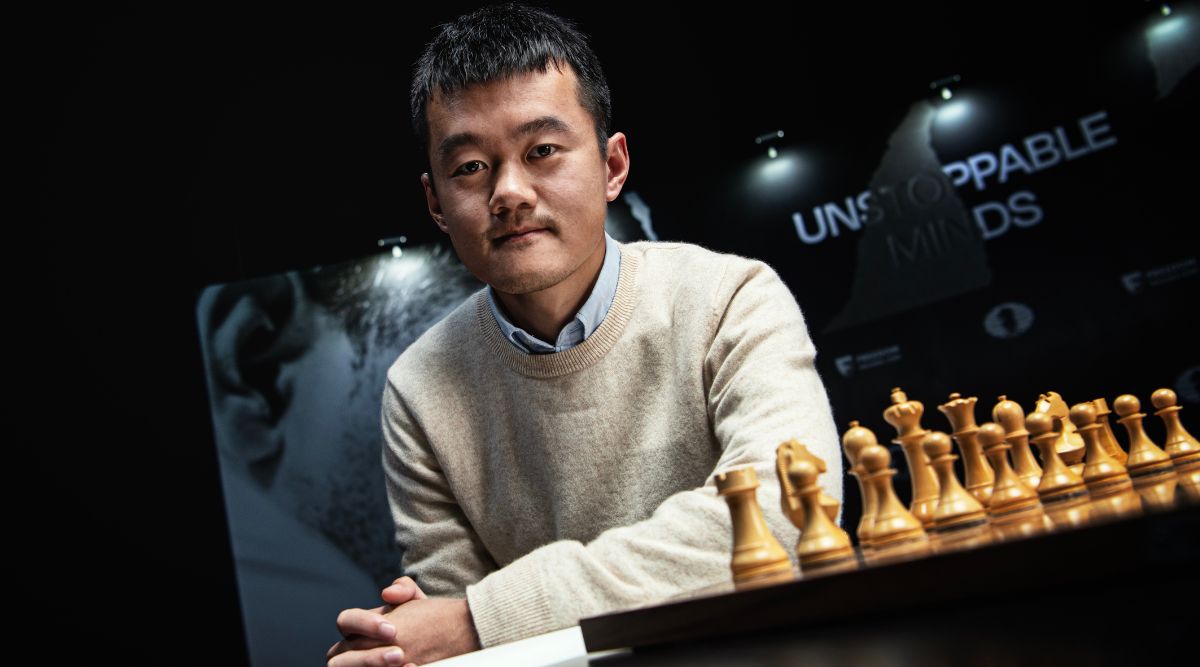 Also Read : Who was the First World Chess Champion?
Rise to Prominence
Ding's rise to prominence in the world of chess began in 2009, when he won the World Cup as a 17-year-old, defeating some of the top players in the world along the way. This victory qualified him for the Candidates Tournament, which is the tournament that determines who will challenge the World Chess Champion. Ding's performance in the Candidates Tournament was impressive, finishing in shared second place, just half a point behind the winner.
Ding's performance in the Candidates Tournament earned him a spot in the world's top ten players, and he has remained there ever since. He has since become one of the top chess players in the world, making him the first Chinese player to break the 2800 rating barrier. In 2015, he won the Chinese Chess Championship for the fourth time, and in 2017, he won the Shenzhen Masters, a prestigious tournament featuring some of the top players in the world.
Achievements
Ding's achievements in the world of chess are numerous. He has won the Chinese Chess Championship four times (in 2004, 2005, 2006, and 2015) and has represented China in the Chess Olympiad multiple times. In 2017, he won the Shenzhen Masters, and in 2019, he won the Grand Chess Tour's Sinquefield Cup, defeating the likes of Magnus Carlsen and Maxime Vachier-Lagrave along the way.
Ding's biggest achievement to date, however, is his performance in the 2018 Candidates Tournament. In this tournament, he finished in shared first place with Fabiano Caruana, the eventual challenger to the World Chess Champion. Ding's performance in this tournament was particularly impressive given the strong field of players he was competing against, including former World Chess Champion Vladimir Kramnik and current World Rapid Chess Champion Shakhriyar Mamedyarov.
The table below shows Ding's peak rating and his performance in some of the major tournaments he has played in.
| Tournament | Year | Performance |
| --- | --- | --- |
| World Cup | 2009 | Winner |
| Chinese Chess Championship | 2015 | Winner |
| Shenzhen Masters | 2017 | Winner |
| Sinquefield Cup | 2019 | Winner |
| Candidates Tournament | 2018 | Shared first |
| FIDE World Cup | 2019 | Quarter |
| Chessable Masters | 2022 | Champion |
| World Chess Championship | 2023 | Champion |
Current Status and Future Prospects
Ding Liren is currently ranked as the world's number three player in the FIDE ratings, behind only Magnus Carlsen and Ian Nepomniachtchi. He won the 2023 World Championship Chess at this week. However, despite his victory in the World Chess Championship, Ding Liren may not be able to win the undisputed title. Because of this tournament Carlsen refused to defend his title before Ding Liren was qualified.
After an opening tie-break, Nepomniachtchi emerged victorious. However, Ding made an impressive comeback for the rest of the match and managed to level the score in the 12th game. In their deciding game, the first three games were tied, while Ding won the fourth. He defeated Nepomniachtchi and became the first Chinese World Chess Champion in the Open Division.
Looking to the future, Ding's prospects in the world of chess remain bright. He is still relatively young for a chess player, with many years of competitive chess ahead of him. With his solid playing style and impressive track record, he is sure to remain a force to be reckoned with in the coming years.
Conclusion
Chess may be considered an abstract game of logic and calculations, but its highest levels can also be filled with passion and nerves – as evidenced in Ding Liren and Ian Nepomniachtchi's World Championship match in Astana where their battle came down to the wire with Ding holding an edge before Nepomniachtchi made a crucial miscalculation in the last game that ultimately cost him.
Ding Liren is a rising star in the world of chess, with a track record of impressive performances and a style of play that is both solid and positionally sound. His victory in the 2009 World Cup and his performance in the 2018 Candidates Tournament have cemented his place as one of the world's top chess players, and he shows no signs of slowing down. With his current ranking of number three in the world, and with many years of competitive chess ahead of him, Ding is sure to be a player to watch in the coming years.